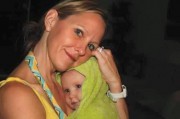 Months after the birth of her beautiful baby girl, a South Milwaukee woman was diagnosed with Stage 4 breast cancer. Family and friends are raising funds to help her and her family in the fight for her life because sometimes luck needs a little help.
Milwaukee, WI, March 16, 2016 (Newswire.com) - ​​With the support of Leslie's Week, a national organization that provides bonding time for families dealing with Stage 4 breast cancer, a spirited group of family and friends is rallying behind an amazing South Milwaukee woman.
Sara Wozney Balaker is a 39 year old oncology nurse and mother of a beautiful 9 month old baby girl, Jozie. A South Milwaukee High School and UW Oshkosh alumni, she was just diagnosed with stage 4 breast cancer around mid December 2015. 
She has an infectious energy that makes everyone who meets Sara immediately love her. We are heartbroken that such a young family has to endure a Stage 4 diagnosis but we are hopeful and will fight along side her!
Friends, family and her medical experts she's entrusted her care to are hopeful, according to the National Cancer Society, the 5 year survival rate for Stage IV cancer is just 22%. The medical treatments are extremely expensive and if
paitents
win this fight, many families are left with little for college or retirement savings. 
In the spirit of St. Patrick's day, Sara's friends and family are hosting a fund raiser to help give Sara's luck a little help. The event is open to the public and will take place on March 19th from 1-5pm at Foolery's on Okauchee Lake in Oconomowoc., WI.  Attendees will enjoy the bands Romeo's Charm, Lisa Renee Ridgely as well as music from Audio Therapy DJ Services. There will be a raffle/silent auction, great food, drink in a festive atmosphere. 
100% of all money raised via this event will go directly to Sara to pay for medical bills, house payments, & essentials (like food & utilities, etc.) as Sara goes through her battle with cancer. The Balakers & the Wozney family & friends thank you in advance for generosity given through this difficult time. 
Not able to attend?  Support Sara in her fight by donating to her GoFundMe page: https://www.gofundme.com/gpgq57f8
Please visit the event FaceBook page for more details.  https://www.facebook.com/events/650078458464639/
Link to the Caring Bridge site that communicates Sara's progress: http://caringbridge.org/visit/sarabalaker
About LESLIE'S WEEK - LESLIE'S WEEK is a 501 (c)(3) organization that provides a week vacation to families and a mother, who is slipping away. Entire families are sent on vacations in beautiful locations, away from the stress of treatment.  For the children, we have an educational assistance fund to ensure their future.  LESLIE'S WEEK partners with cancer centers that nominate Stage 4 Metastatic Breast Cancer women and their families. LESLIE'S WEEK provides their accommodations, transportation expenses and all they need in order to be comfortable and secure when they arrive. 
The goal of LESLIE'S WEEK is for each family member to make memories that outlast cancer. For more information and to donate, please visit www.LesliesWeek.org
Share: